First aid attainments have always been in demand, and the capabilities are increasingly expected by employers and industry leaders in wide-ranging occupations. Successfully completing a qualified first aid course results in a certificate that showcases specialist competency and the ability to respond to accidents and emergencies. Melbourne is a progressive city where health and safety is prioritised, and first aid officers are placed openly and discreetly to ensure citizens are overseen in a safe environment. Real Response certificates of competency are highly regarded, and a valuable addition to any resume or portfolio.
What first aid certificates are available in Melbourne?
The growth of Real Response as a training industry leader has been phenomenal. Established in late 2014 to bridge the divide between qualifications and genuine emergency response capabilities, Real Response is achieving results unparalleled in the first aid training industry. We employ highly experienced and professional course instructors and deliver enhanced simulation based training, with course options continually expanding to meet demand. Real Response training includes all foundational first aid and CPR courses, with the potential to expand on training for comprehensive accident and emergency response capability.
Real Response training certificates available in Melbourne include:
Provide CPR (HLTAID009)
Provide Basic Emergency Life Support (HLTAID010)
Provide First Aid (HLTAID011)
Provide Emergency First Aid Response in an Education & Care Setting (HLTAID012)
Provide First Aid in Remote Situations (HLTAID013)
Provide Advanced First Aid (HLTAID014)
Our course expansion includes industry-specific training. Examples include Provide First Aid in an ESI Environment (UETTDRRF10B) and Perform Rescue from a Live LV Panel (UETTDRRF06B). Real Response is your comprehensive one-stop training provider for achieving relevant first aid certificates in Melbourne.
Are the first aid certificates nationally recognised?
All the above-mentioned courses are nationally recognised and accredited, while other Real Response courses are tailored for Victorian accreditation. Examples include:
Management of Asthma Risks and Emergencies in the Workplace (22282VIC)
Management of Anaphylaxis Risks and Emergencies in the Workplace (22300VIC)
Real Response attainments provide certificates of competency that are valued all around Australia. The qualifications generally last from 1 – 3yrs prior to the need for a short refresher course. The potential for first aid officers to respond to accidents and emergencies is greater than ever, thanks to state of the art innovations that include portable automated external defibrillators (AEDs), adrenaline auto-injectors for treating anaphylactic shock, and other specialist devices. In other words, emergency response capability previously only accessible to paramedics and medical emergency teams is now within reach of trained first aiders.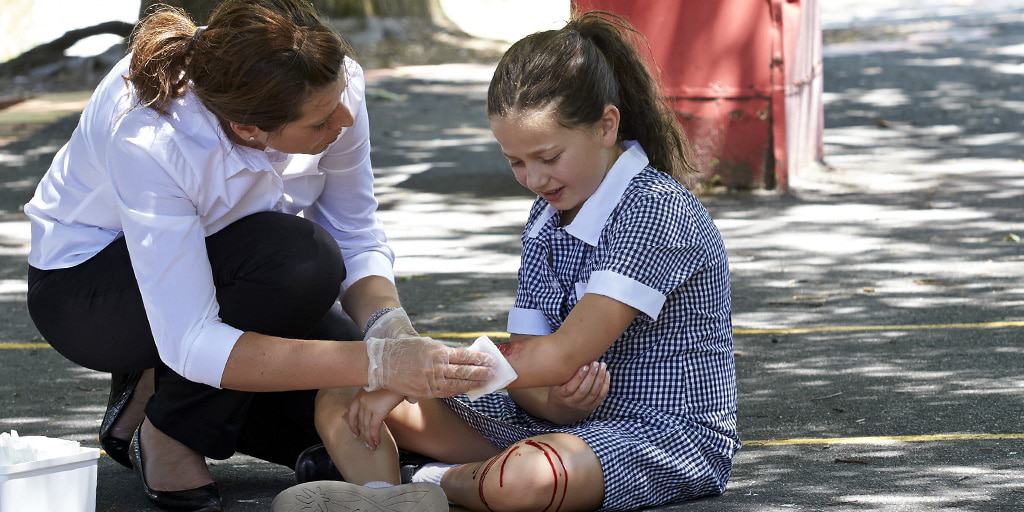 First aid qualifications are among essential training components in occupations where health and safety are prioritised. Examples include:
Aviation
Transport & Logistics
Health & Community Services
Childcare & Aged Care
Sports, Recreation & Fitness
Forestry Occupations
Manufacturing
What are the benefits of completing a first aid certificate in Melbourne?
Attaining a first aid certificate in Melbourne provides graduates with workplace advantages, greater opportunity for promotion, diversification, and the chance to establish an entirely new career direction. Mostly though, first aid attainments establish competencies that keep those around you safe. Accidents and emergencies can happen anywhere and at any time, and a timely response is essential for optimum outcomes. At Real Response we deliver training methods that imbue first aiders with the knowledge and skill set to approach any emergency with confidence and capability, ultimately saving lives.
Where are first aid courses held in Melbourne?
Real Response are leaders of simulation based first aid training where practice really does make perfect. Our simulations experts visit anywhere in Melbourne city and suburbs to deliver tailored training programs for every workplace, school and community setting. Onsite training at the location of your choice also affords the opportunity to develop risk management strategies, a dedicated first aid facility, and team-bonding for employees and employers who believe in looking out for each other.
Real Response courses can also be undertaken at our Melbourne headquarters located at 1/3 Wellington St, St Kilda, and we are always on hand to discuss your unique requirements. We believe in providing every Australian with the opportunity for transformation into a competent first aid accident and emergency responder. Real Response 'Public Training' courses, also held at our Wellington St headquarters, are an additional opportunity, where individuals and groups can attain first aid certificates and develop skills that assist family, friends, and even complete strangers in times of need.