Since foundation in October 2014, Real Response has become a Melbourne institution. Real Response was founded in response to poor retention of knowledge and skills by supposedly qualified first aiders. In defence of first aid newcomers, there is a lot to learn in only one or two days of intensive first aid and CPR training and remembering everything is a tall order, particularly when time is of the essence during real emergencies.
Real Response course facilitators realise that practice makes perfect, and instead of rote deskbound learning they introduce enhanced simulation training where 'learning by doing' provides experience even during training. The result is far greater knowledge retained and ready to be called upon whenever an accident or emergency occurs. Real Response courses in Melbourne are making a real difference every day in people's lives all around the city and regional areas.
Why is first aid becoming popular in Melbourne?
As Australia's second largest city with a population nudging close to 5 million people, a lot can go wrong. The growth of Melbourne has been astounding, and maintaining a safe and secure city is incredibly important for a smoothly functioning society. As Melbourne has grown, so has the ability of trained first aiders to respond to emergency. Progressive first aid innovations include adrenaline auto-injectors for treating anaphylaxis (extreme allergic reaction), portable defibrillators, oxygen equipment and more, allowing trained first aiders to respond to emergency with the same courage and conviction as emergency services personnel and medical emergency staff.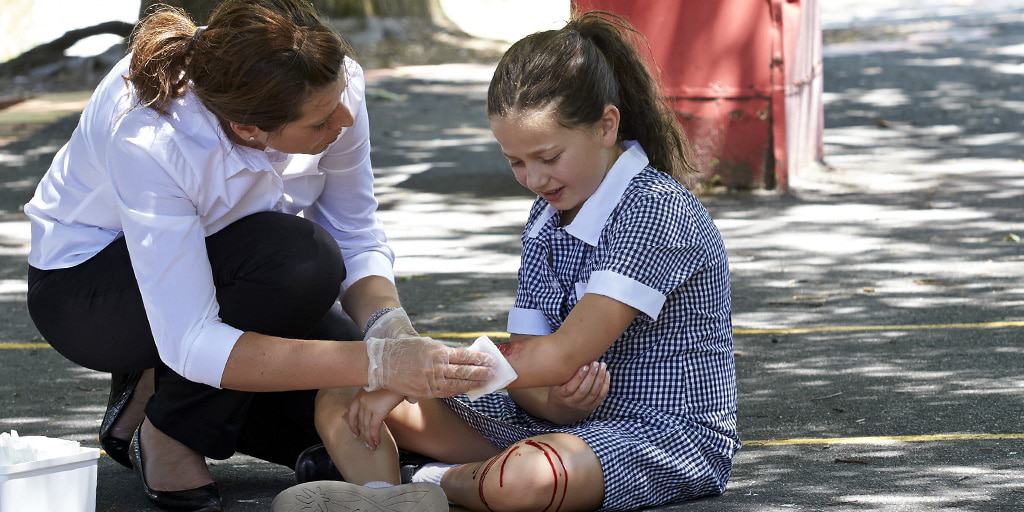 Can I take first aid training in the Melbourne CBD?
Real Response Melbourne are CBD training specialists. Our expert instructors reach out to the people of Melbourne, teaching first aid in-house or at a location of your choice. In fact, the move to provide first aid training in the workplace adds to the experience by allowing employees to understand the dangers inherent in their immediate environment, along with suitable emergency response pathways and procedures. With simulation training, course participants are immersed in realistic and relatable scenarios at work, school and other environments where people gather and accidents are likely. Simulation training provides knowledge, a first aid skillset, and genuine emergency response experience, all conducted in a safe environment.
What is HLTAID011?
Provide First Aid (HLTAID011) is one of Real Response's most popular courses for a lot of good reasons. The attainments achieved form a solid foundation for all first aid and CPR response procedures, while also providing a valuable stepping stone toward higher attainments, career progression or a whole new occupation. With more industries than ever incorporating first aid qualifications as essential workplace skills, HLTAID011 attainments are becoming even more valuable. Provide First Aid course attainments include:
Responding to an unconscious person
Provide CPR to adults, children and infants
Airway management and artificial respiration
Shock and anaphylaxis countermeasures
Automatic external defibrillator (AED) training
Accessing and addressing small and large injuries
Management of bleeding
Environmental injuries
Can I study an industry-specific First aid course?
The range of courses at Real Response Melbourne have expanded to meet industry expectations. First aid and CPR training is particularly relevant in dangerous occupations where the potential for accident or emergency is heightened. Real Response courses in Melbourne include:
Perform Rescue from a Live LV Panel (UETTDRRF06B)
Provide First Aid in an ESI Environment (UETTDRRF10B)
Management of Asthma Risks and Emergencies in the Workplace (22300VIC)
Provide First Aid in Remote Situations (HLTAID013)
Provide First Aid in Remote Situations (HLTAID013)
There are many other courses available at Real Response, including all-new 'Public Courses' all around Melbourne, taught by industry experts using enhanced simulation training for greater knowledge retention and first aid response capability. Contact our friendly staff for more information, or visit our Melbourne Head Office at Level 1, 3 Wellington Street, St Kilda for a hands-on introduction to state of the art first aid training.