As first aid, CPR and anaphylaxis (allergic reaction) training attainments become education and care industry standard, the need for qualified and capable emergency responders increases. With education and care expansion comes additional first aid infrastructure, facilities, and the opportunity for career diversification or promotion. Employment avenues for multi-skilled education and care staff are greater than ever, and Real Response training ensures first aid capabilities are ready for use whenever an emergency arises.
Course modules focus on education and care environments where life-saving skills are called for, although The Real Response skill-set is adaptable to all emergency situations. Provide an Emergency First Aid Response in an Education and Care Setting (HLTAID012) is a comprehensive introduction to the best first aid procedures, devices and equipment available, along with training tailored specifically for education and care workers.
What content is covered in an emergency first aid response course?
It's difficult for newcomers to comprehend the simplicity of first aid procedures. To put things in perspective, all well-known life-saving abilities, attainments and skills are learnt during Provide an Emergency Response in an Education & Care Setting (HLTAID012). The course can be completed in one or two days, with both theory and practical learning outcomes resulting in a transformative skill set. At Real Response, information retention is greatly enhanced by simulation training that delivers a realistic, real-time learning experience. HLTAID012 content includes:
Providing first aid care to adults, children and infants
Providing CPR to adults, children and infants
Using a defibrillator for treating cardiac arrest
Bandaging wounds, sprains and broken bones.
Communicating with onlookers, helpers and emergency services
Adrenaline auto-injection to treat anaphylactic shock (severe allergic reaction)
Reporting accidents, incidents and emergencies according to industry standards
The course content results in well-rounded first aid attainments applicable in any emergency involving one or more people. Real Response training methods, including simulation training, are transforming the first aid industry along with the lives of countless grateful Australians.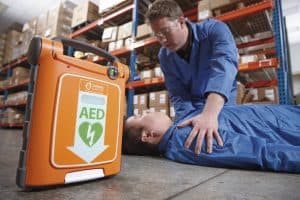 Why is first aid training important in education and care settings?
Responsible and reputable caring institutions and services expect employees to attain the HLTAID012 unit of competency. The course provides the first aid knowledge and skills required for providing a range of treatments suitable for adults, children and infants. People employed in childcare and education, including support staff, will benefit from Real Response immersive training techniques that emulate workplace environments, ensuring staff are at-ready in case of emergency, including common childhood asthmatic and anaphylactic ailments.
Although the increase in first aiders is encouraging, Real Response aims to constantly improve the quality of learning outcomes that directly relate to saving lives. For this purpose, simulation training as used by governments, the military, police and medical services is a Real Response innovation that is transforming lives for the better. Simulation training includes replication of familiar workplace environments and creating emergency scenarios using actors, props, emergency sirens, 000 calls, real emergency equipment and life-saving time lines.
What else makes Real Response emergency response training different?
Along with well-established first aid skills, Real Response course participants develop leadership and teamwork abilities that last a lifetime. Many students flourish in the 'learning by doing' environment, where first-hand experience colludes with text book knowledge for creating an immersive learning experience. In addition, Real Response course instructors are all qualified and experienced emergency services and medical personnel with years of experience, and they aim to ensure students are genuinely competent to achieve assessment requirements.
Real Response training is the inclusive alternative to deskbound learning, providing a new realm of social interaction between colleagues, along with the chance to expand knowledge. Although the subject matter is serious, Real Response courses are designed to be fun and interactive; after all, there is no more pleasurable, humbling and transformative experience than saving someone's life. Occupational work and safety standards are an Australia-wide initiative bearing an influence on safe work practices, and when first aid attainments provide adaptable response skills for overseeing large groups of children, the elderly or other care groups, Real Response solutions make perfect sense.