What You Will Learn In Provide First Aid Course?
Responding to an unconscious person
Airway management
Provide artificial respiration
Provide CPR to an adult, child and infant
Two Person operated CPR
Understand the basic principles of: Automatic External Defibrillation (AED)
Communicate in an emergency
Respiratory emergencies
Cardiac emergencies
Shock and anaphylaxis
Management of bleeding
Bandages
Chest, abdominal and pelvic injuries
Soft tissue injuries (fractures,dislocations, sprains and strains)
Head and spinal injuries
Eye, ear and nose injuries
Strokes, diabetes and seizures
Environmental injuries
Animal injuries
A Level 2 First Aid certificate is one of the most useful qualifications a person can possess. First aid and CPR courses at Real Response are of short duration and cost effective, making Level 2 First Aid (Provide First Aid) qualifications the best investment you and your team can make in health and safety.
What will you learn in a Level 2 First Aid course?
With first aid skills and knowledge at your disposal, everyone in your vicinity is in safe hands. From the outset, course participants practice simulated emergency response training at Real Response, meaning you can graduate in only one or two days with wide ranging life-saving qualifications and capabilities. Here are just a few of the Attainments gained in the successful completion of Level 2 First Aid (Provide First Aid):
Provide cardiopulmonary resuscitation (CPR) to an adult, child and infant
Automatic External Defibrillation (AED) practice
Anaphylaxis (severe allergic reaction) response using an adrenaline auto-injector
Treating shock, seizure and other debilitating ailments
Immobilisation techniques for addressing head and spinal injuries
Treatment of sprains, strains, fractures and dislocations
Management of bleeding along with appropriate bandaging
How to get first aid certificate Level 2?
The only qualification you require for commencing a Level 2 First Aid training course is the desire to assist people in a time of need. Level 2 First Aid empowers course participants with the first aid response skills and knowledge needed for responding to low-frequency, high-risk emergencies. You will learn how to approach emergency situations with confidence, stabilise the casualty and maintain their essential bodily functions until professional medical assistance arrives. It is recommended that individuals partaking in HLTAID011 Provide First Aid first completes HLTAID009 Provide Cardiopulmonary Resuscitation and HLTAID010 Provide Basic Emergency Life Support, which is also offered by Real Response.
The Level 2 First Aid Course offered by Real Response is in demand with employers nation-wide, making it a great qualification for workplace promotion, diversification, or an entirely new career trajectory. Real Response is an Australian registered training organisation, and we encourage 'learning by doing' with simulation-based training methods formerly used only by professional medical responders, the military and police. Our instructors are genuine legends with vast experience saving lives, and they make sure every course participant develops their maximum potential emergency response ability.
Our simulations experts can tailor the training experience to suit your workplace or other environment using actors, props, real emergency equipment, sirens, flashing lights, 000 calls and timed response for results that can be replicated in the real world. Life-threatening emergencies are rarely experienced by most people, but when an incident does occur you can rest assured your Real Response training will kick-in for timely and appropriate emergency response action.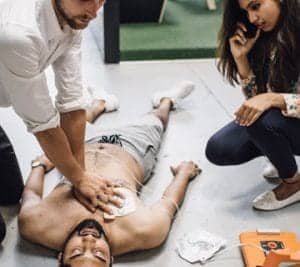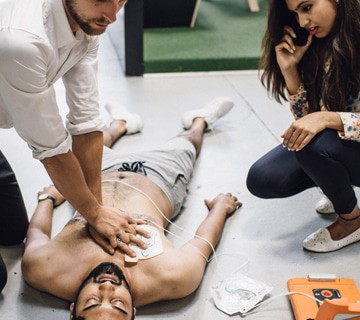 How to renew first aid certification?
The Level 2 First Aid course is a nationally recognised course with accreditation lasting 3 years prior to a short refresher course. Real Response Level 2 First Aid courses in Melbourne and Sydney are transforming the way first aid is taught, and the results speak for themselves. Our courses satisfy all Australian Resuscitation Council (ARC) guidelines for responding to wide-ranging medical conditions and administering emergency life support. First aid procedures are continually evolving thanks to state of the art equipment such as automated external defibrillators and adrenaline auto-injectors, making a statement of attainment from Real Response a valuable addition to any resume or portfolio.
Real Response Level 2 First Aid (Provide First Aid HLTAID011) is value packed, and priced right to suit individual and group training options onsite, in-house or at our popular public training courses at convenient locations around the city and suburbs. To learn more about course details or how to renew your first aid certification, feel free to contact our specialised team today.
Where to do a first aid course?
Real Response offers Level 2 First Aid (Provide First Aid HLTAID011) in Melbourne, Sydney and nearby regional centres. Health and safety is a big deal in Australia's largest cities, so Real Response was established by highly experienced educators and paramedics to deliver an unmatched skillset. With group booking available we can tailor training to suit your workplace, school or other establishment, and help you develop a superior team of highly trained first aiders.
We can also help you mitigate risks and hazards in the workplace and even assist you in establishing dedicated first aid facilities. First aid is serious business, but our trainers know how to make it a fun and engaging learning experience for every course participant. Employers, building managers, school groups and individuals all benefit immensely from home and workplace first aid training, and there is no greater reward than the thanks from those whose lives are saved. Do yourself and everyone else a favour by getting in touch with Real Response to learn more course information, or enrol online to get your first aid journey started.