What You Will Learn In Provide First Aid Course?
Responding to an unconscious person
Airway management
Provide artificial respiration
Provide CPR to an adult, child and infant
Two Person operated CPR
Understand the basic principles of: Automatic External Defibrillation (AED)
Communicate in an emergency
Respiratory emergencies
Cardiac emergencies
Shock and anaphylaxis
Management of bleeding
Bandages
Chest, abdominal and pelvic injuries
Soft tissue injuries (fractures,dislocations, sprains and strains)
Head and spinal injuries
Eye, ear and nose injuries
Strokes, diabetes and seizures
Environmental injuries
Animal injuries
What is a Level 2 First Aid certificate?
A Level 2 First Aid certificate is one of the most useful qualifications a person can possess. First aid and CPR courses at Real Response are of short duration and cost effective, making Level 2 First Aid (Provide First Aid) qualifications the best investment you and your team can make in health and safety.
With first aid skills and knowledge at your disposal, everyone in your vicinity is in safe hands. From the outset, course participants practice simulated emergency response training at Real Response, meaning you can graduate in only one or two days with wide ranging life-saving qualifications and capabilities. Here are just a few of the Attainments gained in Level 2 First Aid (Provide First Aid):
Provide cardiopulmonary resuscitation (CPR) to an adult, child and infant
Automatic External Defibrillation (AED) practice
Anaphylaxis (severe allergic reaction) response using an adrenaline auto-injector
Treating shock, seizure and other debilitating ailments
Immobilisation techniques for addressing head and spinal injuries
Treatment of sprains, strains, fractures and dislocations
Management of bleeding along with appropriate bandaging
How long does a Level 2 first aid certificate last?
Level 2 First Aid is an introductory course that delivers senior first aid qualifications. Certification lasts for 3 years prior to the need for a short refresher course, with Level 2 First Aid requirements satisfying the regulations of the Australian Resuscitation Council. In other words, Real Response offers qualifications that are in demand all around the country by leading industry experts and business professionals.
Provide First Aid, or Level 2 First Aid offers real opportunity for employment and promotion within workplaces dedicated to safety and security of persons and premises. Real Response course instructors are all highly experienced professionals in fields that include firefighter, paramedic, military emergency, medical emergency and more. In other words, your Level 2 First Aid certificate and other attainments can last a lifetime, and possibly save lives along the way.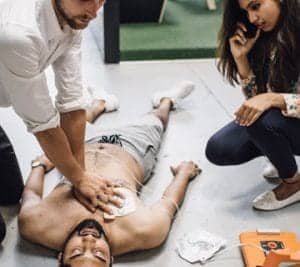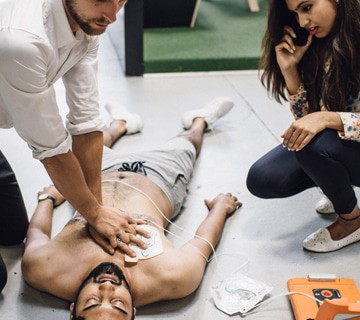 How do you get a Level 2 first aid certificate?
Real Response has evolved to meet increased demand for first aid training, and now boasts purpose-designed facilities in both Melbourne Level 2 First Aid Course and Sydney Level 2 First Aid Course.  We take first aid and CPR training to people in the CBD and outlying suburbs, utilising simulation-based training to maximise effective safety, security and emergency response procedures at your premises. You and your work group or team can get Level 2 First Aid certification with one or two-day course options, with little interruption to regular work functions and an opportunity for team-building and bonding between management and staff.
Real Response simulations experts use props, actors, emergency signals and more to establish realistic first aid training scenarios. Simulation-based training has been used for years by the military and police, and the same techniques are proving incredibly effective for first aid training, ultimately saving more lives. Simulation training used in Level 2 First Aid includes:
Creation of simulated scenarios at any work, school or community setting
Talented actors and realistic props for enhanced learning immersion
Active and timed emergency response in a realistic setting
Emergency lights, sirens, pyrotechnics, 000 calls and more
Fake wounds, fake blood and life-like props for deeper learning
The use of defibrillators, auto adrenaline injectors and other first aid equipment
With so much to learn, it's no surprise that people used to struggle with life-saving first aid knowledge and techniques during real emergencies. Simulation-based first aid training at Real Response makes the difference, allowing regular people to transition from innocent bystanders to active first aiders at a moment's notice.
What does Level 2 first aid cover?
The attainments gained in Level 2 First Aid form a skill set that can be carried with you for life. Low-frequency, high-risk accidents and emergencies can happen at any time to anyone, making first aid capability an empowering addition to your personal qualifications. Additional first aid skills and techniques learnt in Level 2 First Aid include communication in an emergency, respiratory emergencies, environmental injuries, animal injuries, and eye, ear and nose injuries.
Major employers in Australia now demand relevant first aid and CPR qualifications from employees, and we are fortunate to live in a country where health and safety are prioritised. Simulation-based first aid training, or 'learning by doing' is an ideal emergency response training method for cardiopulmonary resuscitation (CPR), artificial respiration (mouth to mouth), anaphylaxis treatments and a range of other procedures dedicated to alleviating life-threatening situations.
What does Level 2 first aid enable you to do?
By attendance for only a day or two of dedicated first aid training, you will develop skills and knowledge applicable to the most commonly experienced accidents and emergencies. In addition, it's almost guaranteed you will feel like a bit of a hero the moment you graduate, as the thrill of discovering new capabilities sets in. At Real Response, we help every course participant develop confidence in their natural ability, along with the awareness that only first aid qualifications can provide.
The expansion of first aid training and skills development is encouraging. More than ever, health and safety guidelines include the availability of trained first aiders on-site in case of emergency. The growth of the first aid training industry in Australia is due to several reasons.
The availability of portable life-saving equipment such as defibrillators and adrenaline auto-injectors, transforming emergency response capability for everyone.
A solutions-based approach, where simulation-based training mimics reality for dramatic first aid skills improvement and knowledge retention.
The increased emphasis on first aid for industries that benefit most, such as childcare services and the electricity supply industry.
Level 2 First Aid is a countermeasure to wide-ranging medical conditions, particularly in places where large groups of people gather. The emphasis on safety and security in modern society is all pervasive, making Real Response training courses more relevant than ever, and a great way to ensure your family, friends and colleagues are all safe.
If you are a business owner or building manager, Real Response Level 2 First Aid training on your premises is highly recommended. We will formulate an industry specific approach relevant to your needs, apply the latest simulation training techniques for a fun and engaging learning experience, and even assist with risk and hazard management strategies.
Your staff can train while on the job, enjoy a day or two of bonding, and learn how to work as a team when the going gets tough. First aid training encourages personal development along with skills acquisition, allowing your workplace to function smoothly with less staff turnover and greater opportunity for advancement and promotion. Level 2 First Aid packs a lot into a short training course, and Real Response looks forward to training a whole new generation of Australians.