What is a senior first aid course?
Senior First Aid (Level 2 First Aid HLTAID011), develops the practical skills and knowledge required for emergency first aid response, casualty management, life support and more. This nationally accredited qualification remains the standard with industry experts and employers and will make any portfolio stand out from the crowd. Essential first aid skills learnt in a Senior First Aid Perth course include:
Cardiopulmonary resuscitation for an adult, child and infant
Responding to a prone or unconscious person
Providing airway management and artificial respiration
Understanding the principles and use of an automatic external defibrillator (AED)
Respond to anaphylaxis using an adrenaline auto-injector
Managing the symptoms of strokes, diabetes and seizures
Bandaging and management of bleeding
Immobilisation techniques for head and spinal injuries
What do you do in senior first aid training?
With Real Response training you get up from the desk and into life saving action even while training. Simulation-based training is 'learning by doing', in a simulated emergency environment. Senior First Aid training in Perth is ideally delivered at your workplace or other establishment using simulations that include realistic emergency scenarios, actors, props, real emergency equipment, emergency signals, lights, 000 calls, pyrotechnics and more.
Onsite training allows Real Response to help you chalk out an emergency response plan, reduce workplace risks, develop teamwork and even establish dedicated first aid facilities. First aid emergency response is serious business, but Real Response professionals make it enlightening, fun, and the best value training course available.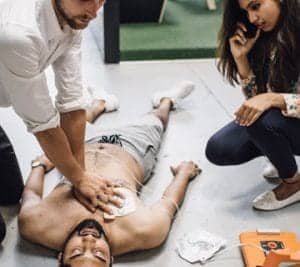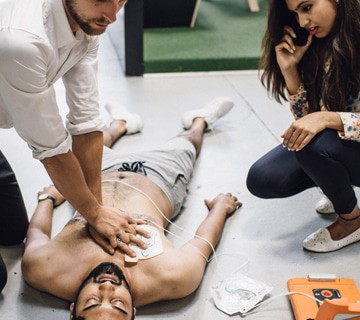 How much is a senior first aid course in Perth?
Real Response aims to make first aid training accessible for all Australians. We partner with major Australian employers and organisations to deliver training programs and essential qualifications. We also cater to individuals and groups, with training tailored to your specific needs. Senior First Aid public training courses are under $200, while group training of up to 7 people costs $1,270, making an investment in this course a smart move for your entire business or organisation.
How long does a senior first aid certificate last in Perth?
A Senior First Aid certificate is valid for 3 years prior to the need for a short refresher course. Training includes one-day or two-day course options so there is minimal disruption to your regular work activities. Life-threatening emergencies are rarely experienced by most people, but when an incident does occur and life support is needed, Real Response training will kick-in for a timely and appropriate emergency response.
Real Response undertakes training courses in the Perth CBD and suburbs, helping you and your team achieve nationally recognised training qualifications with fully accredited courses. Real Response was founded in Melbourne in 2014 with an ambition to equip all Australians with first aid skills and knowledge. The plan is becoming a reality thanks to innovative training methods and Australia's finest first aid and emergency response instructors.
If you want to attain a Senior First Aid (Apply First Aid / Provide First Aid) certificate, you have come to the right place. Our range of courses is vast and includes the most popular training courses such as Provide CPR (HLTAID009) and Provide First Aid in an Education and Care Setting. For all first aid units of competency, contact Real Response Perth and get your first aid journey started.