The ability of first aid responders has improved dramatically in recent years. More than ever before, trained first aiders have access to life saving equipment and technology previously only used by highly qualified paramedics and emergency medical responders. Modern first aiders are equipped with portable defibrillators, oxygen equipment, and adrenaline auto injectors for treating anaphylaxis (severe allergic reaction). First Aid Management of Anaphylaxis (22300VIC) courses delivered by Real Response in Sydney are making a huge difference for people all around Australia, while the first aiders themselves are empowered with newfound confidence that comes with life saving potential.
Severe allergic reactions occur in many ways and can be life threatening. Victims suffer symptoms that include shock, breathing difficulties and a sudden drop in blood pressure after exposure to allergens, and in some cases anaphylaxis can occur seemingly without any trigger. Anaphylaxis is a genuine emergency situation requiring timely intervention for optimum recovery, and with Real Response anaphylaxis training, a confident and tailored approach to casualty care is established that will guarantee best results.
How is anaphylaxis training delivered?
Training methods at Real Response are transforming the first aid industry in Australia. We use simulation based first aid training where 'learning by doing' enables course participants to become familiar with every aspect of accident and emergency response. Anaphylactic incidents are on the rise, and meeting the challenge is a Real Response boon to employers and workers, particularly those in childcare and teaching occupations where supervision of our vulnerable children is a huge responsibility.
Real Response was established in 2014 to bridge the gap between first aid attainments and genuine emergency response capability. Previously, first aid training had been undertaken by 26% of Australians, although only 4% considered themselves capable of applying course information correctly. The level of knowledge and skills retention was unacceptable to Real Response professionals who are dedicated to saving lives, and enhanced simulation based first aid training was the answer. First Aid Management of Anaphylaxis (22300VIC) training is enlightening, empowering and comprehensive, including:
Reconstructed emergency simulation scenarios for realistic first aid training
The addition of professional actors and props for deeper immersion in learning
Onsite simulation training for a tailored workplace approach
Use of genuine emergency response equipment including adrenaline auto injectors
Timed emergency response for improving cognitive and physical skills
Communication with emergency services, onlookers, and the anaphylaxis victim
Development of teamwork and leadership capabilities
What is anaphylaxis training for teachers?
Real Response courses are useful for everyone, although teachers are particularly encouraged to undertake anaphylaxis training. Children are extremely vulnerable to allergic reaction, and care needs to be taken even with those who haven't previously experienced a first aid emergency. Overseeing large numbers of children is a selfless service deserving of the best first aid assistance, so Real Response Management of Anaphylaxis training is an opportunity for dramatically improved care and education for everyone's benefit. Anaphylaxis triggers include nuts, seafood, insect stings and bites, and with preparation half the battle won, Real Response graduates in Sydney are ready to respond in a timely and appropriate fashion. Symptoms of anaphylaxis include:
Skin reactions and discoloration including itching and hives
Swelling of the face, lips, throat and eyes
Breathing difficulties caused by constricted airways
Sudden changes in pulse and blood pressure
Timed emergency response for improving cognitive and physical skills
Nausea, vomiting and diarrhoea
Dizziness, fainting and unconsciousness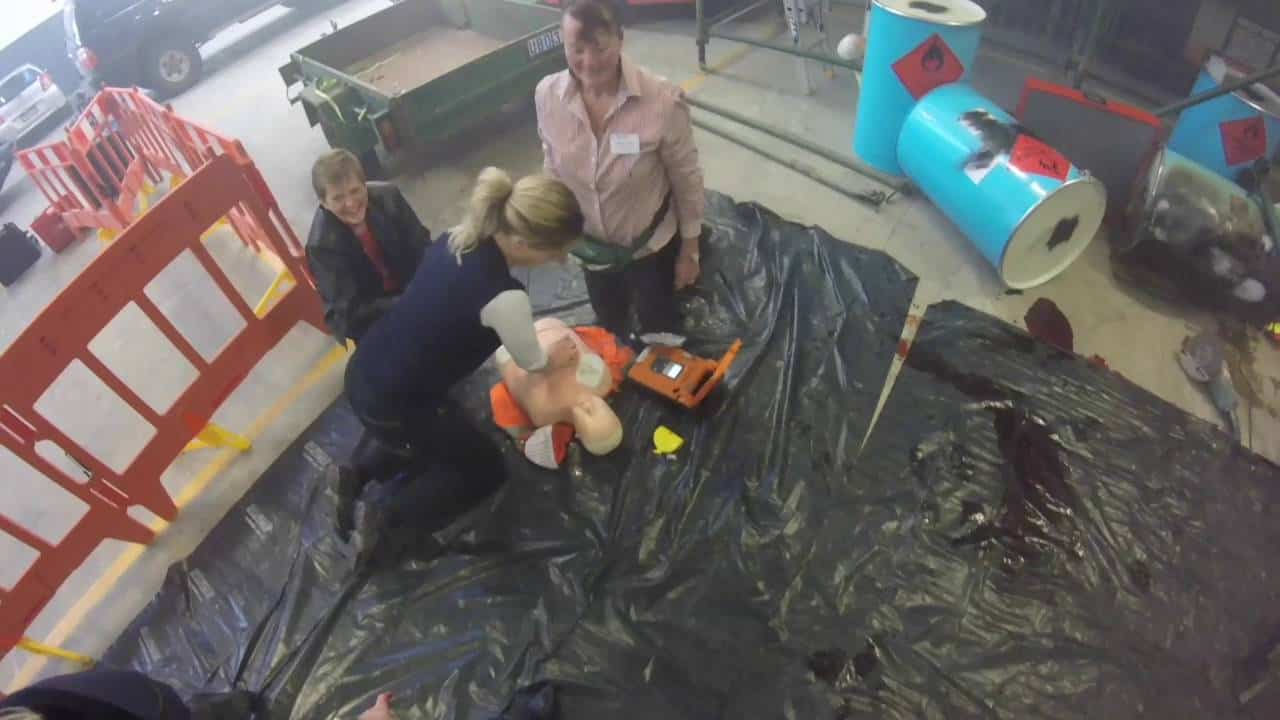 Are course attainments required for employment?
As education and care standards progressively improve, employers are on the lookout for staff who can multitask. First Aid Management of Anaphylaxis (22300VIC) qualifications are held in high esteem, especially when training is delivered by qualified and experienced paramedics and medical professionals at Real Response. Anaphylaxis training also includes asthma response procedures for a well-rounded approach to care and supervision of children and other vulnerable people, and on-site simulation training will greatly improve the ability to minimise risks in the workplace.
First Aid Management of Anaphylaxis (22300VIC) takes only 3-4 hours to complete, yet will transform first aid newbies into competent emergency responders. Simulation based first aid training is practice that makes perfect, delivering the ability to adequately respond to emergencies the moment training is complete. With Real Response training in Sydney, lives are being saved every day, and we are proud to be at the forefront of Australia's first aid training revolution.
Sydney course locations
Our Real Response simulation designers are available to travel to all corners of Sydney for delivery of tailored training programs suitable for every type of workplace. On-site training allows course participants to become familiar with dangers inherent in their workplace, school or care facility, and is also a great team bonding experience for developing strategic first aid response capabilities.
Centrally located at Level 3/50 York St, Sydney, Real Response are eager to welcome you, and we also reach out to Sydney residents with our 'Public Courses' for developing first aid fundamentals. The courses, held throughout the year at Parramatta and Bondi are ideal for individuals and groups who want to be on hand and helpful when low-frequency, high-risk emergencies occur. Our courses are making a real difference in the lives of accident and emergency victims, providing life saving and life changing results for everyone to appreciate.